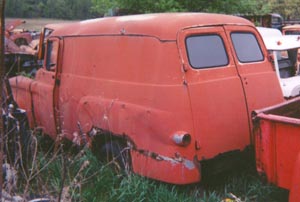 Howard in Ohio got the rear door locking hardware and the license plate lights, Tim in IL got the rearview mirror bracket, and I kept the door props.
I took off the grill and put it inside for protection. I have removed the panel below the rear doors as it had rusted off and I wanted the license plate lights.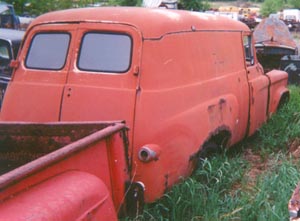 The only good parts left on this truck are a few interior pieces, the tail light buckets, the front bumper, the rear door glass, and the grill.

The owner thinks he has gold! After buying a few parts off of this truck, I offered to buy the whole thing, strip off what I wanted and leave the rest for scrap. The junkyard manager (owner?) told me $500! I offered him $250, which is ridiculously high, and he turned me down. So I left, and I will have to leave the rest of those parts to the crusher.