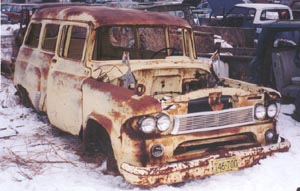 This yellow 1961 D100 Town Wagon is located in a junkyard near Appleton, WI. My friend Mike showed me this truck, and helped me strip it of a bunch of it's parts.
We took all the door hardware, the grill, the side windows, the rear door hardware, the seats(front two only), the gauges, the pedal box(now in Howard's TW in OH), the steering column(also with Howard), and a cardboard interior.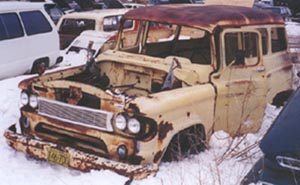 We also took a few other parts, but I don't remember them all.
This truck used to belong to the Army Corp of Engineers, and still has their faded lettering on the doors.
This truck still has some useable parts, and I may go back for them someday.