Back
315 cubic inch V8
The 315 V8 is the last in a series of engines that started in 1954 for Dodge trucks with the 241ci V8. Moving up to 259ci (often called the 260) in 1955 and 269ci (often called a 270) in late 1956.
All of these motors look basically the same, as do several car motors of the same era (not all the same displacement). The only way I know how to tell them apart is by the engine numbers I have labeled below.
315ci V8s were used in Dodge trucks in 1957 and 1958, they are the same block as the 315 Hemi, but have different heads.
Engine Numbers
When I started to collect numbers from PGs, I believed the books I had read were correct, and so when I found a 58 W200 with a motor stamped L8 D3, I assumed it was a replacement motor. By the time I had found 7 58 W100s and W200s, as well as several D100s, D200s, and D300s with the same engine number stamped in them, I figured that Dodge had just decided to stamp all the motors L8 D3, and save on stamps or something. So far this has held true on every 57 or 58 V8 truck I have checked, all the 58s are stamped L8 D3, and all the 57s are stamped VT538.
If you have seen something different, please let me know! I have checked over 30 trucks, and so far every truck that looks like it has the original motor has these numbers stamped on them.
What the books claim
What I have found in the field.
1957

| | |
| --- | --- |
| W100 | VT500 1001 |
| W200 | VT502 1001 |
| D100 | VT534 1001 |
| D200 | VT536 1001 |
| D300 | VT538 1001 |

All the 1957 (and some early 58) D100-D300s, and W100s and W200s that I have checked were stamped VT538 1001, this is the D300 engine number.
1958

| | |
| --- | --- |
| W100 | L8 W1 1001 |
| W200 | L8 W2 1001 |
| W300 | L8 W3 1001 |
| D100 | L8D1 L01001 |
| D200 | L8D2 L01001 |
| D300 | L8D3 L01001 |

All the 1958 D100-D300s, and W100s and W200s that I have checked were stamped L8 D3 1001, this is almost the D300 engine number.
To find your engine number please look at the pictures below. You will see in the first picture that the engine number on a 315 is located just behind the water pump, on the drivers side of the engine.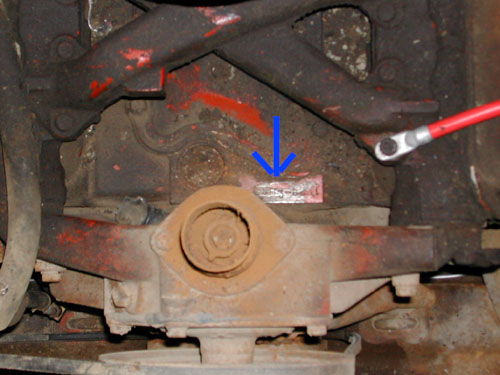 Follow the blue arrow to the boss where the engine number is stamped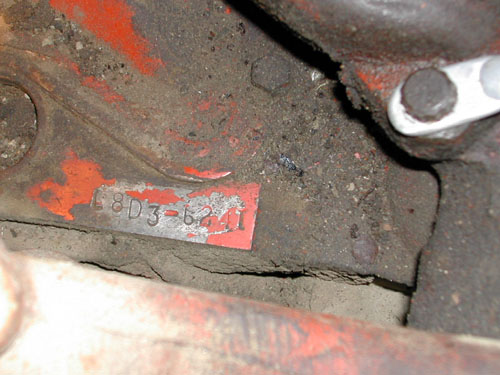 Here you can see the engine number, this engine was in a 58 W100, and the number is L8 D3 6241. This is supposed to be a 1958 D300 motor, but as I stated above, all 58s that I have found had this number stamped in them, unless they were early trucks, in which case they had VT538 stamped in them.
I am always looking for more information on 315 V8 engine numbers, so if you have a 57-58 Dodge truck with a 315 V8, please check your number and E-mail me at townwagon@hotmail.com Thanks!
Back